On July 26, nearly 500 local teens will help spruce up several Flint neighborhoods as part of the annual Summer Youth Initiative (SYI) Volunteer Service Day. And – for the second year in a row – the summer employment program is inviting the business community to join the teens in their beautification efforts.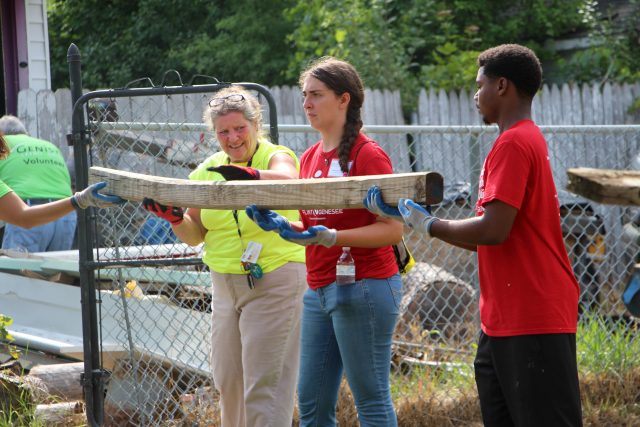 "Last year, several businesses and organizations assisted in the community clean-ups," said Rhetta Hunyady, Vice President of Education & Training at the Flint & Genesee Chamber of Commerce. "Not only did it allow us to make a greater overall impact, it also gave our students the opportunity to meet and network with local professionals."
During the service day, employees, members and community partners of the Flint & Genesee Chamber will help collect litter, mow unkept and vacant property and rake/bag grass clippings for compost.
The adults will work alongside teens, ages 14-19, who have graduated the TeenQuest pre-employment program and currently have a summer job through SYI.
Interested in participating? Here's what you need to know.
This will be a hands-on event, so be sure to wear things you do not mind getting dirty.
Please bring any yard/cleanup equipment that you are willing to share. Ideal items include snow shovels, rakes, shovels, weed whackers, wheel barrows, lawn mowers, etc. Some equipment will be provided, but we could always use more. Please be sure to label your equipment.
Water and small snacks will be provided.
The cleanup will take place from 8:30 a.m. to noon, and will be followed by a lunch reception at Blue Bell Beach from 1:45-2:15 p.m.
To register for Volunteer Service Day, contact Amy Watts by July 21 at awatts@flintandgenesee.org or 810-600-4068.