A yearlong fundraising campaign benefiting YouthQuest – an afterschool and summer enrichment program that serves more than 2,000 students in Flint and Genesee County each year – is nearing its end. But the best is yet to come.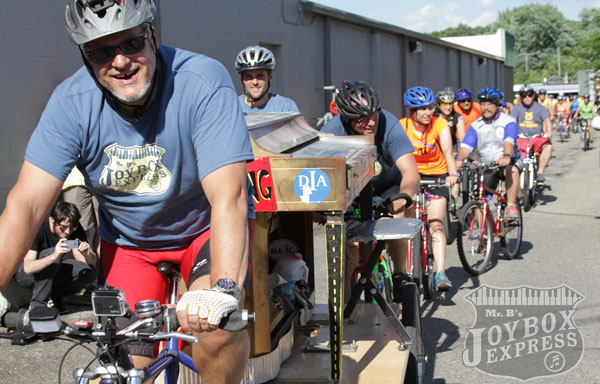 On Aug. 25, Joybox Express will transport a 385-pound piano from Flint to Mackinaw City on a tricycle built for three.
To accomplish this, the Ann Arbor-based nonprofit – led by Flint-native and musician Mark "Mr. B" Braun – will continually rotate new cyclists onto the tricycle's two rear bikes.
More than 30 supporting cyclists, ranging from amateur to advanced, are scheduled to ride on the custom-made piano bike along the 240-mile route. Event organizers hope to secure about 15 more riders before the big day.
"We're eager to find participants from Flint to be a part of our project," said Braun, an accomplished blues and boogie-woogie pianist. "This is truly a once in a lifetime opportunity to do something uniquely wonderful that directly benefits the kids in Flint. Please join us!"
Interested in participating? Here's what you need to know:
Each supporting cyclist will ride on the bike for about 10 miles, or one hour.
Despite the large cargo, it's should be relatively easy for anyone who can comfortably ride a bike for an hour at a time.
Participants will meet at one of several designated meeting spots along the route. From there, a shuttle will transport them to and from their portion of the ride.
Organizers will try to accommodate requests to ride during a given stretch (i.e., southeastern vs. northern Michigan) or time of day/night.
A seat on the bike requires the rider to raise at least $500 in pledges – which will help support art programming provided through YouthQuest during the 2017-18 school year.
After reaching Mackinaw City, event organizers will transport the piano bike to St. Ignace, where it will be loaded onto a small barge. Soon after, Jim Dreyer, a Grand Rapids-based, world-record holding swimmer, will join Mr. B's Express to help swim/tow the instrument to Mackinac Island. While there, Braun will rest up before performing during the Labor Day Jazz Weekend at the Grand Hotel.
The project is the latest from Mr. B's Joybox Express, which raises awareness for charitable organizations by taking its custom-made piano bike on the road. To learn more about the nonprofit, visit www.joyboxexpress.com.
For more information about participating in the ride, contact Joshua at (734) 474-4942 or joshua.crites@gmail.com.
Want to show your support without breaking a sweat? Submit a donation to the initiative or make a pledge for an individual cyclist here.