Nearly 50 percent of American employers report having difficulty filling open positions in Manpower Group's 2018 Talent Shortage Survey. Of those open positions, skilled trades – such as electricians, welders and mechanics – are the hardest to fill. As the talent gap continues to be an issue at a national, statewide and local level, Afterschool Download is providing a four-part series focused on all things skilled trades. To begin, we look at apprenticeships.
Flint's new Lear building is a point of pride for QueAndric Thornton. The 156,000-square-foot facility was the site of his first job as a building trade apprentice with the United Association of Journeymen and Apprentices of the Plumbing and Pipe Fitting Industry (UA).
"Being a first-year apprentice, I was mainly a runner and got stuff for other workers," says Thornton, a Flint-native who earned his welding certificate through UA Veterans in Piping – a four-month program that helps military service members transition back to civilian life by preparing them with career-ready skills.
"But I also had the opportunity to watch and work alongside journeymen," he adds. "And I gradually learned how to do some tasks on my own."
While he learns, Thornton gets paid. He gets benefits. He gets health care. And by the time he completes the five-year training, he'll be vested into a pension. Such is the life of an apprentice in one of the U.S. Department of Labor's Registered Apprenticeship programs.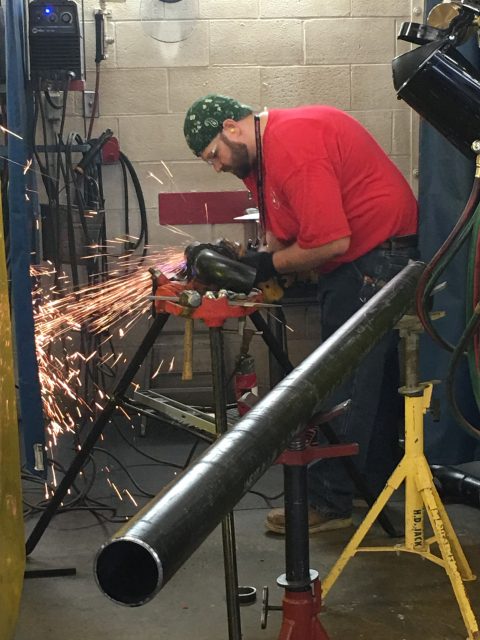 With a network of over 150,000 employers in more than 1,000 occupations, the DOL has registered programs in industries ranging from advanced manufacturing to health care. These programs combine on-the-job training with technical instruction and provide graduates with a nationally recognized credential.
Some – like Thornton's – are through unions. Others are through non-union companies. Some employers have their own training schools on-site, whereas others collaborate with schools, such as Mott Community College.
Locally, plumbing and pipefitting are one of many apprenticeship options for job seekers. There are also opportunities for bricklayers, elevator installers and glaziers, just to name a few.
A common thread among these career paths? Job growth is forecasted to be faster than average between now and 2026, according to the Bureau Labor of Statistics. That, and the median pay for each was anywhere from $42,580 to $79,480 in 2017.
"The top pay for a journeyman (in this field) is pretty high right now," says Thornton, who graduated from Carman Ainsworth High School in 2010. "I think a common misconception is that tradesmen work hard for low pay. They work hard, but they make a good wage."
Another benefit of working in the trades? Flexibility in location.
"Once you have your journeyman's license, you don't have to interview for a job," says Harold Harrington, business manager at the Flushing-based UA Local 370. "The UA has 300 different locals across the country. Each hall has its own list (of manpower requests) when there's a call out for plumbers or pipefitters – you just go to the hall, sign up and get to work."
According to Harrington, the ideal candidate for an apprenticeship varies based on the career. With the UA Local 370, it helps to enjoy working with your hands, have good math skills (e.g., fractions, basic algebra and basic geometry) and be willing to work in adverse weather conditions.
Whatever apprenticeship a person decides to pursue, a good first step is to connect with GST Michigan Works! in Genesee County. There, a career coach can provide counsel and information about local programs. They can also help coordinate any required aptitude testing, as well as provide assistance with transportation, interview clothes and job-specific expenses.
Once a job seeker is ready to begin applying for apprenticeships, he or she can seek out opportunities via local union websites, Career OneStop, My Next Move, Michigan Road to Work and Pure Michigan Talent Connect.
Interested in learning more about the skilled trades in Michigan? Click here.